Interviews with news makers and discussion of topics important to Southwest Michigan. Subscribe to the podcast through Apple itunes and Google. Segments of interview are heard in WestSouthwest Brief during Morning Edition and All Things Considered
WSW: Drive Electric Week Shows How Electric Cars Have Changed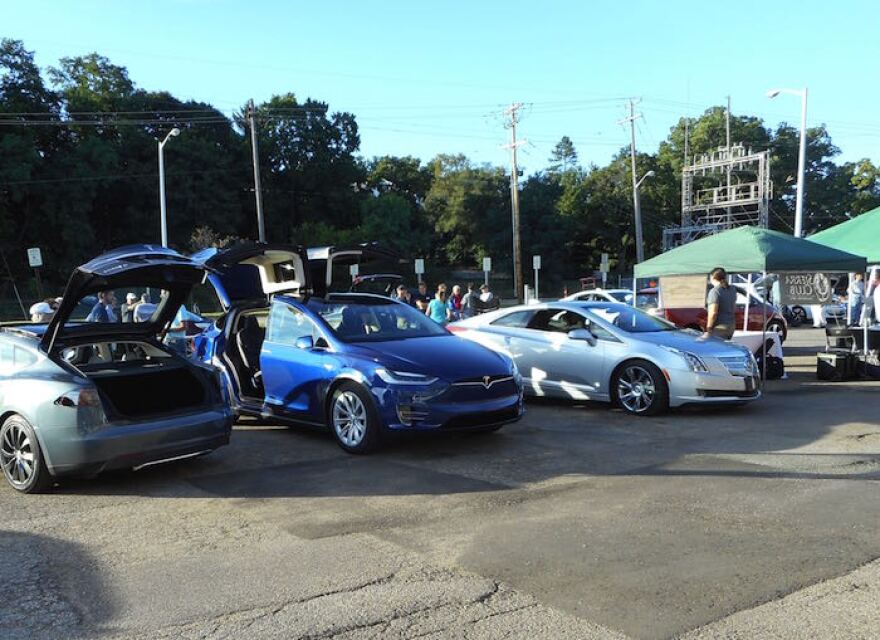 It's National Drive Electric Week. To raise awareness about the benefits of electric vehicles, owners of electric cars and motorcycles will be offering test rides in Kalamazoo, South Haven, and Hastings.
The Southwest Michigan chapter of the Sierra Club will host events at the Hastings Library on Saturday, September 9th, the South Haven Library on Monday, September 11th, and at the Western Michigan University physical plant on Wednesday, September 13th in Kalamazoo. All events are from 5 p.m. to 7 p.m.
Ben Brown of the Southwest Michigan Sierra Club says electric cars have changed a lot in just the past few years:
Cheaper Batteries Lead To Cheaper Cars
A battery that used to cost $1,000 in 2010 now costs $300 or less. That cost has made some electric cars more affordable and many of them can go farther without needing a charge. Brown says owners can even choose to upgrade their batteries and get more mileage out of their older electric vehicles.
Innovation In Electric Charging
Ben Brown says it would take him about 16 hours to charge his car if it was plugged into the wall socket at home. If he was plugged into a level 2 charger - the kind you usually see at public charging stations - it would take him 3.5 to 4 hours. If he used a DC fast charger, it would take 15 to 20 minutes.
Brown calls DC fast charging - also known as Direct Current Quick Charging (DCQC) - a game changer for electric cars. With enough DCQC stations, electric car owners could be able to travel across the country. Brown says Tesla owners can already do that because they have their own charging stations.
One of the first DCQC stations in West Michigan is set to open in Plainwell at the Midway Chevrolet.
How far an electric car can go on a charge has also changed. Brown says ten years ago 60 or 70 miles would have been the range for an electric vehicle. Now he says the average electric car has a range of 110 to 130 miles at highway speeds. Tesla claims its latest battery can go up to 335 miles on a charge.
"Flattening The Duck"
As electric cars become more popular, some energy companies worry that the demand for electricity will overwhelm the supply. People in the U.S. use the most energy in the evening, between the time most of us come home from work and the time we shut off the lights to go to bed.
This is what energy companies refer to as "peak demand." If everyone were to plug in their electric cars at those times, we could have an energy crisis on our hands. Brown says this is a valid concern.
Fortunately, he says, as more charging stations become available, electric car owners can charge their vehicles at off-peak hours. That levels out the demand or "flattens the duck." The demand curve on a graph often resembles Donald Duck's head.
This puts less strain on energy companies and - if enough electric car owners choose to do this - could save electric companies money. That savings could then be passed on to electricity customers.
How Green Are Electric Cars Really?
Sure, electric cars don't emit greenhouse gases - but the coal and natural gas plants the help charge the battery certainly do. According to the Scientific American, how green your electric car is all depends on where you get your energy from.
If it's mostly coal, you could be polluting more than a gas vehicle. Natural gas generates about half the emissions. Renewables and nuclear power have little to no emissions at all.
Consumers Energy customers in Michigan get a mix of 36 percent natural gas and 21 percent coal. The rest is mostly from renewable and other low emissions sources. Brown says as coal plants shut down and more renewable sources are brought online, we'll likely see the environmental footprint of electric cars shrink too.