0000017c-60f7-de77-ad7e-f3f739cf0000Arts & More airs Fridays at 7:50 a.m. and 4:20 p.m.Theme music: "Like A Beginner Again" by Dan Barry of Seas of Jupiter
Theo & Stacy's Greek Fest Blends Culture, Entertainment - and Lots of Food
38 years ago, Theo and Stacy Skartsiaris decided to host a night of food and entertainment at their fine dining restaurant, Dionysos. The couple emigrated from Greece in the sixties and wanted others to be able to appreciate and understand their culture.
"Kalamazoo is changing very much - but 1973 to 80's, people were not willing to try different foods. We were the first ones to decide to bring our Greek culture to Kalamazoo - with Greek food, Greek music, dancing and everything, and Kalamazoo embraced our Greek culture very well," says Mrs. Skartsiaris, who is the proprietor of the family's Theo & Stacy's restaurants.
"We started to have a Greek night in the basement of Dionysos, but the basement was small," says Mrs. Skartsiaris.
"So we decide 'Let's do it outside in the back of the parking lot.' At that time, Kalamazoo didn't have any festivals, not at all-none. A lot of people thought Theo - my husband - was crazy - and he was crazy," she says with a laugh.
They had no idea how much attention it would bring - or that their once-a month summertime gathering would turn into an annual affair – Theo & Stacy's annual Greek Festival.
"We were the first ones to have the guts to start festivals in Downtown Kalamazoo - because nobody thought it would be successful," says Skartsiaris.
This year, the festival will be held June 5 - 7 at the Arcadia Creek Festival site. Greek Fest blends both American and Greek culture. Along with belly dancing, and a show from traditional band The Levendes, Latitude 42 is going to debut their newest craft beer. There'll also be a live show from alternative rock band Sugar Ray.
https://www.youtube.com/watch?v=s8RhKMgzhAk
"Our support – it's for the Kalamazoo people. So we want you to have the Greek food, we want you to have the Greek dancing, enjoy the Greek music and the belly dance, but also showing the American music too. Make it a fun night not for Greek for Americans. Because we are Americans, right? We're not just Greeks, but we're Americans too," Skartsiaris says.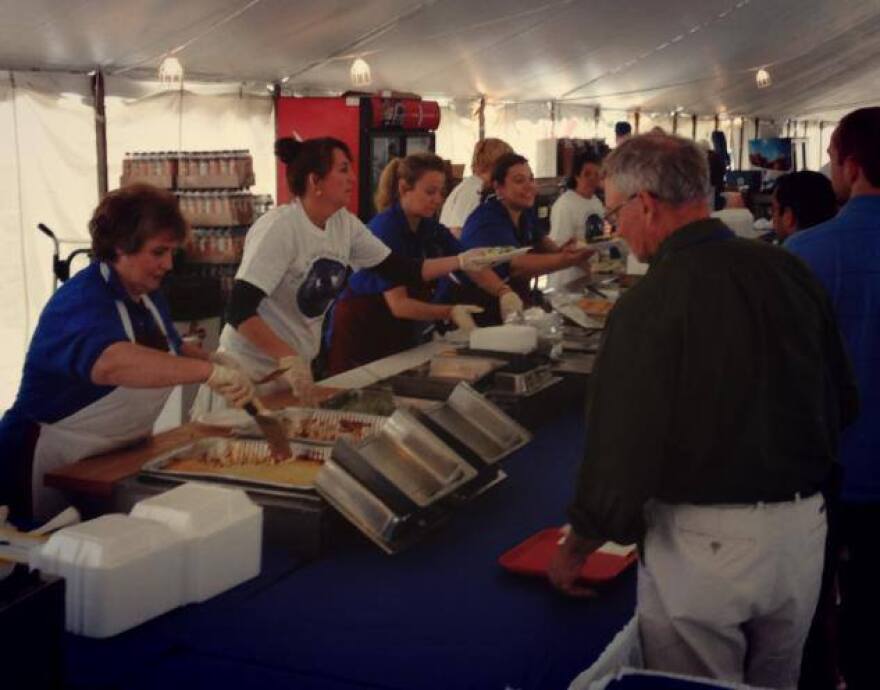 But while the entertainment is attractive - everyone knows it's all about the food - lots of food: Moussaka, pasticcio, grape leaves, spinach pie, souvlaki, Greek Salad, vegetarian plates, cookies and more will be available for purchase through a ticket system.
Mrs. Skartsiaris has always preferred to be behind the scenes, preparing the food herself and ensuring that customers are happy. She maintains that her late husband was more of the showman.
"He used to wear the big Greek costumes, go up on the stage, get the people dancing - it was very much family entertainment. It was nice," she remembers.
But this year Skartsiaris is stepping out of the kitchen and on to the stage. On Saturday evening, patrons will have the opportunity to learn traditional Greek dances alongside the Skartsiaris family.
"The Greek dance - we'll all hold hands together, it means unity. Even if you don't know how, you just follow the leader, that's it," says Skartsiaris.
After her husband's death in 1994, Mrs. Skartsiaris made it her mission to continue running their small chain of casual dining restaurants - and Greek Fest. There's no doubt that her husband would be proud.
"You can do whatever you want in this county - no matter where you come from, doesn't matter who you are, you can be successful. And that was Theo. Theo was the adventurer. I'm so proud, because a lot of people are doing these things now after my husband," she says.