0000017c-60f7-de77-ad7e-f3f739cf0000Arts & More airs Fridays at 7:50 a.m. and 4:20 p.m.Theme music: "Like A Beginner Again" by Dan Barry of Seas of Jupiter
Photographer Captures Modern Potawatomi Regalia
Chicago photographer and Potawatomi member Sharon Hoogstraten has been photographing Potawatomi people in their regalia for the past eight years. She'll give a talk at the Kalamazoo Institute of Arts on Tuesday, September 19th at noon.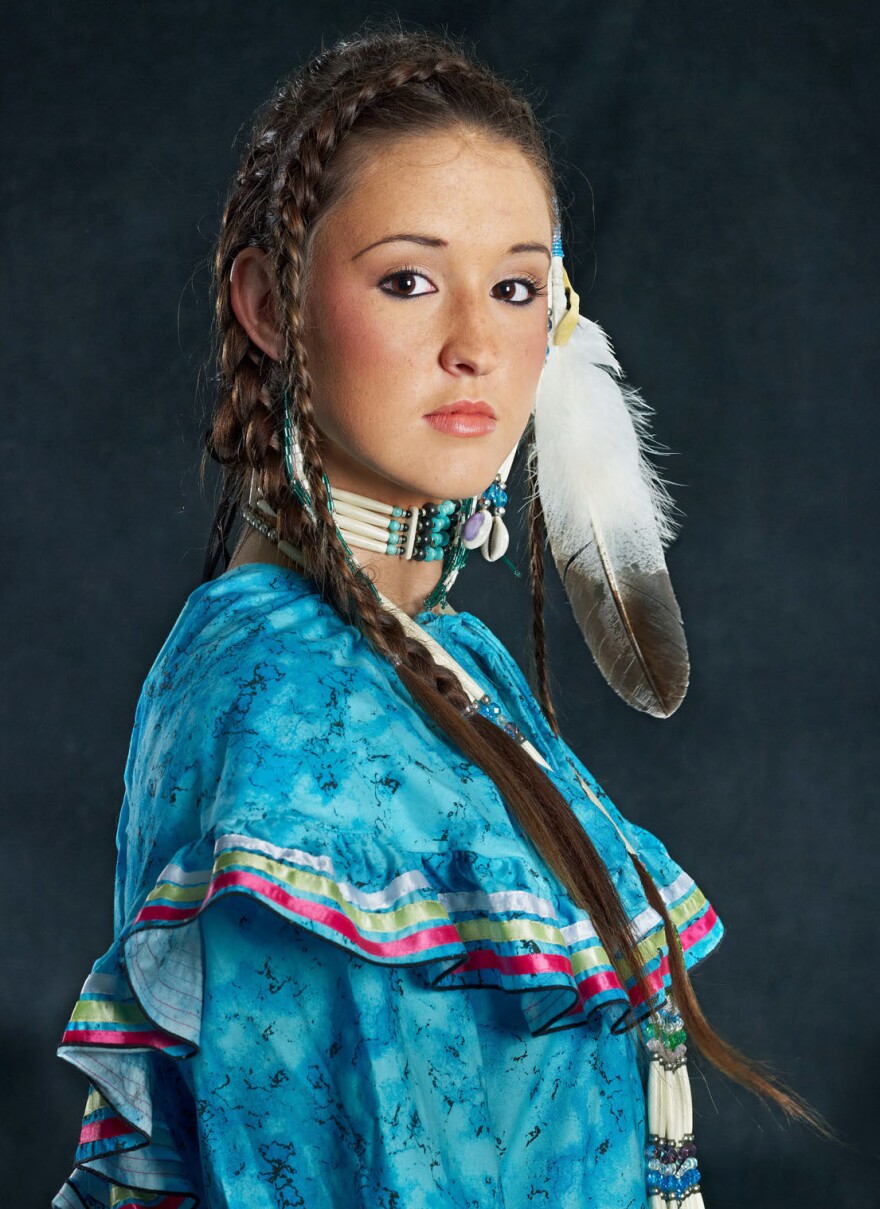 If you've ever been to a pow wow, you might feel like you're stepping back in time. The often bright, intricate regalia of Native American dancers is so unlike any other clothing today. But Hoogstraten says these are not museum pieces.
"It's not a reenactment. Everybody is always sewing their story or wearing a gift. Gifts are huge in this culture. It's their story. Even if they were to wear their mother's deer skin, it is personalized to become their regalia. So it's constantly changing," she says.
Hoogstraten captures all her subjects in front of a plain backdrop. It's a nod to the early sit-down portraits of Native Americans in the early 19th century.
Each photo is accompanied by a handwritten note from the subject describing something meaningful about their clothing. Hoogstraten says she quickly realized the stories behind the regalia couldn't be told through photos alone.  
"The first man that showed up was in simple leggings and a white shirt with ribbons on it and I thought, 'Oh wow, no bustle. No bling, no headpiece,'" she says.
"But then he started talking to me about his regalia and he was wearing a white shirt - which you don't see very often - and white represents mourning and he had just lost his wife."
He was also wearing different colored ribbons representing the four directions. In Native American culture these can symbolize the stages of life - birth, youth, adulthood, and death.
"I realized I had just looked at this man and taken him at face value - and there was this whole story in his regalia," she says. "It was heartbreaking to know that he was wearing the white shirt because his wife had walked on. So it was a lesson to me."
Later Hoogstraten photographed a woman from a prairie band of the Potawatomi who used to be a fancy dancer.
"That's where you see the shawls and the beautiful dancing. Now she is trying to be a cancer survivor and she changed to a jingle dancer - because the jingle dress is the healing dress, the medicine dress," she says.
Hoogstraten says every piece of regalia is made by hand and helps tell the person's story. Though traditional clothing may remind you of a costume, she says it's the exact opposite.
"A costume is something you put on when you're being somebody you're not," she says.
Hoogstraten lives in Chicago now, but she's originally from Kalamazoo. Her Potawatomi ancestors were forced to give up their land and eventually moved to Kansas.
She says in some ways, these photos document the differences in regalia between the Potawatomi bands. Hoogstraten says the bands that stayed in Michigan were able to pass down regalia from their ancestors:
"Then you had people who were moved from Illinois to the Platte River to Council Bluffs to Kansas and then again to Oklahoma. So what happened? How much could they really keep with them in all those upheavals? But also their regalia changed because they went from a woodland setting to a prairie setting. So we see a lot more gingham and these shawl collars that can be flipped up over the head like a hoodie to protect from wind and dust. So there was some evolution there too."
Sharon Hoogstraten will talk about photographing Potawatomi people in their regalia Tuesday, September 19th at noon at the Kalamazoo Institute of Arts.