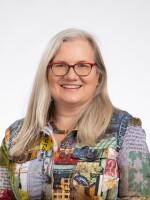 Leona Larson (Gould-McElhone) was a complaint investigator with the Detroit Consumer Affairs Department when she started producing and co-hosting Consumer Conversation with Esther Shapiro for WXYT-Radio in Detroit while freelancing at The Detroit News and other local newspapers. Leona joined WDIV-TV in Detroit as a special project's producer and later, as an investigative producer. Today, she splits her time as a general assignment reporter at WMUK and a part-time journalism instructor for the School of Communications at Western Michigan University. Leona prefers to use her middle name on air because it's shorter and easier to pronounce.
Did a local family uncover a new source for Petoskey stones?

Alfonso ran unopposed in the Democratic primary for Congress, in Michigan's 4th District. It appears likely that he'll make the ballot in November, but election officials can't yet say for sure.

Old Kalamazoo laws against impersonating a meter reader or making obscene gestures at the bus station are going away.

Budget airline Avelo will fly non-stop from Orlando to Kalamazoo beginning this fall.

Governor Gretchen Whitmer issued an executive order Tuesday aimed at reducing gun violence and crime with money from the federal government.

The City of Kalamazoo says it has no plans to add more public restrooms downtown. That's despite the concerns of some business owners that there simply aren't enough places to "go" in the shopping district.

In 1965, Kalamazoo converted its busiest downtown streets to one-way traffic. Why? And why is the city now planning to change those streets back to two-way?

People experiencing mental health crises will have a new option for care next year. A facility offering immediate mental health care services is expected to open in downtown Kalamazoo in 2023.

Spongy moth caterpillars have left some trees in Kalamazoo County bare. What can you do to protect trees?

It's been decades since fishing was allowed along Portage Creek in Milham Park and Blanche Hull Park. Starting Friday, July 1, anyone with a fishing license can cast a line.