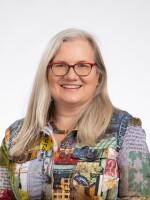 Leona Larson (Gould-McElhone) was a complaint investigator with the Detroit Consumer Affairs Department when she started producing and co-hosting Consumer Conversation with Esther Shapiro for WXYT-Radio in Detroit while freelancing at The Detroit News and other local newspapers. Leona joined WDIV-TV in Detroit as a special project's producer and later, as an investigative producer. Today, she splits her time as a general assignment reporter at WMUK and a part-time journalism instructor for the School of Communications at Western Michigan University. Leona prefers to use her middle name on air because it's shorter and easier to pronounce.
The City of Kalamazoo's Environmental Concerns Committee pressed state health officials Wednesday on when they'll finish an air pollution assessment.

There's federal money to build wildlife bridges and crossings here. Is Michigan going to apply?

Michigan Democrats will control the state legislature for the first time in almost 40 years.

Michigan's new 4th Congressional District could have been a litmus test for independent redistricting. So why isn't it?

A grassroots campaign started two decades ago successfully challenged the coal industry. One professor said it could provide a model for climate activists.

The Michigan Attorney General and Kalamazoo Prosecutor announced today that the Fabius Township Supervisor has been charged with four counts of first-degree criminal sexual conduct.

Previously unknown court records stored in a salt mine rocked the world of medieval studies last week.

A Battle Creek soldier killed in World War II came home to his final resting place Monday. His family reflected on his influence and his sacrifice.

A new study found global wildlife declined by more than two-thirds between 1970 and 2018. The report says people need to act to reverse the trend.

Scores of people turned out for a Paw Paw Public Schools Board of Education meeting. The majority were there to protest the removal of rainbow flags from classrooms, and the cutting of a mental health curriculum.