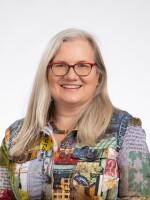 Leona Larson (Gould-McElhone) was a complaint investigator with the Detroit Consumer Affairs Department when she started her media career producing and co-hosting Consumer Conversation with Esther Shapiro for WXYT-Radio in Detroit while freelancing at The Detroit News and other local newspapers. Leona joined WDIV-TV in Detroit as a special projects' producer and later, as an investigative producer. She spent several years teaching journalism for the School of Communications at Western Michigan University. Leona prefers to use her middle name on air because it's shorter and easier to pronounce.
Privately funding an arena in Kalamazoo might finally make the oft-proposed project palatable. But will it boost the local economy, and could taxpayers foot some of the bill after all?

Someone complained about the book, which is in the collection at the Galesburg-Augusta High School library. The superintendent denies the district broke its rules.

Western Michigan University Board of Trustees unanimously approved the estimated $18.3 million purchase at Thursday's board meeting.

A U.S. Congresswoman from Michigan tells climate activists in Kalamazoo to push harder on environmental issues.

Bronson says it encourages employees to stay home when they are sick. But hourly workers say they can face disciplinary action for taking more than five sick days in a year.

A nationally-known gun violence prevention expert was in Kalamazoo Thursday talking about solutions.

A man whose side job led to an investigation at the Kalamazoo Public Schools has left his day job at a private medical school affiliated with Western Michigan University.

A virtual presentation on Monday outlined the economic impact of closing the Palisades nuclear power plant.

End Gun Violence Michigan held events around the state Wednesday, including in Kalamazoo, calling on state lawmakers to enact four laws related to gun safety.

Bob Wood spent part of the fall in Ukraine. He'll talk about his experiences Thursday at the Kalamazoo Public Library.